The New European Bauhaus brings both design and culture into the green transition, says MEP Ciarán Cuffe. He visited a Desire session at UIA - World Congress of Architects in Copenhagen.
Published July 7, 2023
During the UIA - World Congress of Architects in Copenhagen at the beginning of July 2023, our Desire project was also represented on the stage in a combined talk and debate: Sustainable Transformations of Architecture: How do we embrace the beauty of ugly?
Among others, we had the pleasure of hearing Ciarán Cuffe, a Member of the European Parliament, talking about the New European Bauhaus initiative and what it can bring to Europe. The following day we at the Desire project talked with him again and asked him to express his thoughts about the future and the New European Bauhaus.

"At a European level, there is general agreement that a green transition is required. But I think the New European Bauhaus brings both design and culture into the picture. And it highlights the role of design in allowing us to make this green transition. For some of us working in the area of architecture or planning, it's obvious when we talk about the circular economy or when we talk about living in harmony with nature. It underlines the need for a green imperative. But I think it can also be a tool to bring people together on making the green transition happen," says Ciarán Cuffe.
The need for a new understanding of beauty
In the debate at UIA, the panel talked about a new understanding of what we actually mean about beauty in architecture and finding beauty in the ugly. That makes sense for Ciarán Cuffe:
"I think we will have to redefine beauty. In the 20th century, beauty was about rational forms. It was about mass-produced, highly machined items that were pure. And I think as we move towards a circular economy and as we move towards low carbon and natural materials, we will see a different type of beauty emerge. It's like a good way of looking at this is the pattern of age. The detail that we see on an object that is old, the marks of where the marks of time. To me, they are beautiful. And I think this is part of our redefining of beauty. And as we make more objects or materials by recycling and reusing older materials, it will redefine beauty for us."
"As one of the speakers in the Desire session said, things that are not only attractive for humans but do work for all species on the planet - so does it work for a butterfly or a bee it can help us on the road to a new definition of beauty in a very practical sense and push the picture of what a nice building is, etc. It could be a green roof on a building, or it could be green planting and trees on a city street which will promote biodiversity. They will trap pollution and they will help our buildings and cities to breathe again. So, yes, we need to redefine beauty," says Ciarán Cuffe.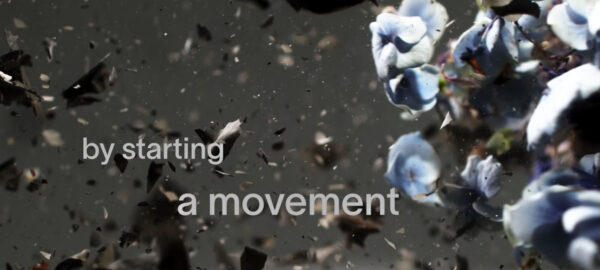 The demand for sustainability does not equate to less creativity
Ciarán Cuffe was inspired by the debate, but also by walking around in the big exhibitions at the UIA.
"Many years ago, many architects were worried about new ecological architecture. They thought it would look ugly and awkward with big PV panels, trees and grass growing out of the facade.
But I think that's more of a cartoon version of what the future will look like. I think there is still scope for a huge amount of architectural creativity in what we design and how we design. I think the future will obviously make more use of natural materials, but it will produce buildings that are more comfortable to be in.
And the skills to make these buildings will be more gentle on the workers that make them. And I think that is a positive thing and be a value chain of better working conditions in construction and in the making of construction products and then more comfortable buildings to be in," he says.
Ciarán Cuffe also mentions buildings with all glass, that are cold in the winter and too hot in the summer.
"I think that will change and we'll be much more concerned about the air quality and the living conditions in a building. And I think the architecture profession is improving on making that a reality. And it redefines our definition of beauty, but it also makes spaces that are much more comfortable for everyone. – Of course, we still make mistakes and New European Bauhaus is a whole new way of thinking. And whenever technologies change and ideas change, there will be mistakes made. But we'll have to make those mistakes on our journey to an architecture that is attuned and in line with the constraints of the planet," says Ciarán Cuffe.
The learnings from the COVID pandemic
At the debate at UIA, the panel also discussed how to live in recognition of the planet's boundaries. A question for Cuffe could therefore be how we as European citizens should understand and expect residential homes in future? 
He points out two different views. One based on the practicalities of how many bedrooms you need, etc.? And the other, what do you like doing in your home or the life you live?
"Thoughts about the life you want to live are important. For instance, do you want to spend a lot of time driving a car every day? Do you want to live in a community where you know your neighbours? I think these decisions will lead us towards better buildings and better communities."
"During the COVID pandemic, we learned how to make much more of the communities or the neighbourhoods that we lived in. And we spent more time in those communities. Even though the pandemic was dreadful, I think many of us learned to live more in harmony with those around us. By driving less, by using local shops and services, by not flying off halfway around the world for relaxation. And I think some of the lessons we learned during the pandemic are lessons that can stay with us in the future on living within the constraints of the world," explains Ciarán Cuffe.
Recall the house as a machine for living in
Right now, in the European Parliament, Ciarán Cuffe is the chief negotiator for the Energy Performance of Buildings Directive, which focuses on the CO2 that is used in making buildings - and the energy that's used in the buildings. Considering, that work will also have a huge impact on the building environment, he says:
"We already have an Energy Performance of Buildings Directive, but this is a recast of that directive. And the focus is on minimum energy performance standards for every building. And by 2050, we want to ensure that all buildings, almost all buildings have an 'A energy rating' because this will reduce greenhouse gas emissions and will reduce heating and cooling bills. So that's what this legislation does."
"It's obviously, it's quite controversial because people don't want Brussels telling them what to do. But I think if we're to take climate change seriously, if we're to learn from the crazy high energy bills of last winter, we need to make not just new buildings, but we need to make existing buildings more energy efficient over time. And that will clearly involve insulation, but also heat pumps, photovoltaics and new technologies that reduce our energy use and that are better for the planet. Here is also the use of data," Ciarán Cuffe says.
In the Desire project one of the partners, The Technical University of Denmark - DTU, talked about data as a new building material. And Ciarán Cuffe agrees.
"I used to be quite sceptical about data, but we need to learn from the way we use buildings. Here post-occupancy evaluation is very important, and data is a hugely important part of that. Good data can help us use our buildings better and help with using the energy we create from the building to charge our vehicles and power our homes. So, it's a whole new way of thinking about buildings."
"Actually, you know, many years ago, the Swiss born architect Le Corbusier said, that the house is a machine for living in. And in a funny way, we're going back to this idea of the building as a machine that provides our energy and looks after us. And if we do it right, we can build beautiful spaces that are aesthetically pleasing."
Click on the play icon below to watch the video from the UIA - July 3, 2023. Note: The link opens on YouTube.